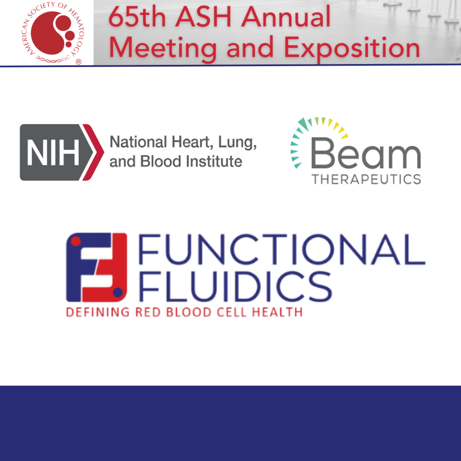 Aliya U. Zaidi, Xiufeng Gao, Robert Goodrich, Marta Ferranti, Rasa Borhan, Ke Liu, Nnamdi Okeke, Michael Tarasev, Mariama Kabore,Courtney Fitzhugh, Priya Chockalingam, and Patrick Hines

● Dynamic sickling assay (DSA) provides a simple, robust method for assessing responses to Hb differences and monitoring both pharmacodynamic SCD therapies and curative therapies.

● As HbA and HbF percentages increase in transfused SCD and SCT samples, improvements in DSA sickling parameters are observed. Additionally, comparative data analysis from patients pre- and post-hematopoietic stem cell transplant (HSCT) also show improvement in sickling parameters.
---
Paper: Initial Results in a Phase 1b Trial of PB-04 in Sickle Cell Disease Demonstrate Fetal Hemoglobin Induction, Additive Activity with Hydroxyurea, and Improved Red Blood Cell Sickling Parameters
Kevin H.M. Kuo, MD, FRCPC, MSc1,2,3, Sylvia Titi Singer, MD4, Gershwin Theophilus Blyden, MD, PhD5*, Lanetta Bronté-Hall, MD, MPH, MSPH6, Aidan Faller, BS7*, Abdullah Kutlar, MD8, Frans A. Kuypers, PhD9*, Aliya U. Zaidi, PhD10*, Patrick C. Hines, MD, PhD10, Niren Patel, MBBS11*, Sandra Larkin, MS12*, Hanny Al-Samkari, MD13, Sujit Sheth, MD14, Seyed Mehdi Nouraie, MD15* and Susan Perrine, MD16

● Treatment with PB-04, an oral fetal globin stimulant, shows normalization of RBC health as assessed by flow adhesion of whole blood to VCAM (FA-WB-VCAM) over a 26-week treatment duration
---
Paper: Smaart Criz: Sickle Cell Mechanisms of Activation, Adhesion, Rheology, and Thrombosis (SMAART) in Response to P-Selectin Inhibition
Gianna G. Valenti , Meera Chitlur, Patrick Hines, Aliya Zaidi, Rasa Borhan, Kelsey Cinciarelli , Alexander K. Glaros

● Elevated baseline flow adhesion indices of whole blood to P-selectin may predict individuals likely to benefit from crizanlizumab, while normal adhesive indices at baseline may predict non-responders or even adverse effects
---
Paper: The Role of Red Blood Cell Vascular Adhesion Biomarkers in Understanding Sickle Cell Disease Associated Chronic Pain

Olufunke Y. Martin, MD; Rasa Borhan, Aliya U. Zaidi, PhD; Deepika S. Darbari, MD; Patrick C. Hines, MD, PhD; Andrew D. Campbell, MD


● Understanding changes in objective RBC biomarkers from baseline to acute VOC in SCD patients with or without chronic pain