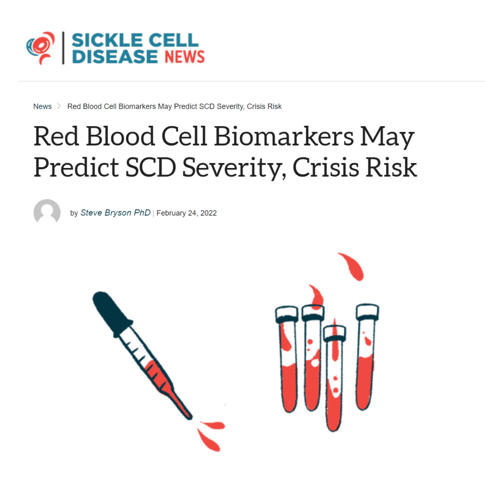 Red blood cell biomarkers may predict sickle cell disease (SCD) severity and the risk of vaso-occlusive crisis, according to a study that evaluated the FA-WB-VCAM blood test.

"Our latest research indicates that one of our clinically available red blood cell health tests called Flow Adhesion of Whole Blood to VCAM (FA-WB-VCAM) may be a plausible surrogate endpoint for SCD severity," Patrick Hines, MD, PhD, CEO and founder of Functional Fluidics, the company that developed the test, said in a press release. The study, "Longitudinal assessment of adhesion to vascular cell adhesion molecule-1 at steady state and during vaso-occlusive crises in sickle cell disease," was published in the British Journal of Haematology. A vaso-occlusive crisis (VOC) occurs when sickle-shaped red blood cells stick to blood vessel walls and block blood flow, depriving tissues of oxygen. As a result, VOCs can cause severe pain and organ damage.

But there is a lack of reliable biomarkers that can predict VOC risk and severity — and that could potentially identify SCD patients at risk of VOC complications in the early stages of the disease. Such early identification with cell biomarkers could help prevent organ damage.